Are you looking for advice for law students in Canada?
If you've decided to become a law student in Canada, then there are many things that you need to know before you go into it.
You must be well informed about the course, what is expected from you while studying this course and what law school looks like. Naivety is one of those things that kill law students and stop them from performing up to expectations.
It's hard to say what to expect from law school each year. However, irrespective of whatever new realities await you, there are pieces of advice and tips that you will find very important for you.
As a law student in Canada, there are many pieces of advice that you need to heed. If I was to be in this shoe, these are some of the advice that I will give myself. I hope that current law students will also find it very useful for them.
The pressure to get high grades is very high for law students. This is because of how difficult it is to get interviews with some of the biggest law firms in Canada. So you need to be on top of your game to give yourself a chance. One excellent factor for success as law students is good grades.
Read to the end of this article to read our list of the eight books that all law students in Canada should read (probably before going to law school.)
Being a law student in Canada
One piece of advice that you cannot joke with is this: while you're pursuing the best grades you can get, never forget to take advantage of the time you're in and make the most out of your experience. Learn as much as you can learn and enjoy the experience as much as possible too.
One mistake that you shouldn't make is to focus too much on one area and ignore other courses that would be more useful for you. You could take an interest in one course and gravitate towards it and give it all your time and attention because you want to make the best grade in it.
This isn't bad, except that it diminishes the experience that you should have had studying law or in law school.
According to some of the professional essay writing services for writing my dissertation platform, you must take more chances as a law student in Canada. Don't restrict yourself to a particular realm. Take as many courses as you can handle and try to expand your knowledge base.
This will be very important for you in the future and will help you to further your career.
The truth is, you don't know what life has in stock for you. There could be twists and turns at some point in your life, and the knowledge you've acquired from school will be helpful to bail you out. No knowledge is a waste.
In the end, you don't know what will be beneficial for you at some point in the future. So you should take more chances while you are still in school.
Advice For Law Students In Canada
You could be tempted to believe that you'll be a major in a specific area. While this works in many cases, it isn't always the case.
Again, never restrict yourself to wanting to be a real estate lawyer and nothing but that. It'll make you take courses only related to that, and it might not turn out as you expect later.
Studying law in Canada is like being at a buffet party. Make sure you have a good taste of the different offerings, as many of them as you can handle.
As a law student in Canada, you read a lot
It's common knowledge that law students always have a lot to read. You probably have an idea of this, but you wouldn't know how bad it can get. The truth is, you could spend all day and night reading in the library.
You'll do a lot of reading. Having this foreknowledge would help to prepare you mentally for what you're into it getting into. You'll be studying very long and very hard.
Advice For Law Students- Be organized and work smart
Being organized helps reduce the stress of the workload on you. It allows you to focus on what you need to focus on and be efficient at your work. Be sure to plan and prioritize work when you should.
Have a goal, focus on what you're reading, and learn to apply the correction in the exams. You could create shortcuts in your reading too.
Your next seminar or tutorial is your next goal
Goal setting is one hack that will work for you while studying law in Canada. You'll have lectures and seminars, and some readings will be assigned to you. Your seminar and tutorial preparations will include how you're to answer some questions.
Some lecturers might use these tutorials to interrogate the students and highlight their knowledge deficiencies and how much they understand the law. One thing that can motivate you is that you need to avoid the tutor's wrath.
This method almost always works. But you must make sure that you also take advantage of the small group teaching sessions.
As authors at Write My Assignment platform mentioned, this is important for you to show your level of understanding and have structured learning. The truth is, you'll learn as much as the effort that you put into it.
High-intensity level in Canada
The intensity in Canadian law school (and all over the world) is very high. So you must be unbreakable to succeed as a law student and pave the path for a successful law career. You have to compete regularly with other students for high grades. It's pretty challenging in every sense of the word.
Advice For Law Students 
Law is an exciting course to study, and it's difficult as well. However, you need to experience it and maximize your experience.
You'll be meeting people from all over the world at law school. So, it's your first real chance at networking. You must make the most of it by building strong relationships. In the legal industry, these relationships could come in handy for you.
You will have fellow students go on to become the very best at this career like you aim to. Building these solid relationships from this point will help you go far. We hope you found this advice for law students in Canada useful.
8 Must-Read Books For All Law Students
Some good advice for law students is to read lots before going to law school.
It can feel as though you're doing nothing but reading as a law student, so the idea of reading more will feel daunting at best. However, you'll want to learn more about your subject, and there are some amazing books that you need to check out. Here are some of the best books you really need to read as a law student, so you can find out more.
Landmarks In The Law by Lord Denning
This is a fundamental book when it comes to English law. It covers all the biggest events in the law, and how changes in the law came about. With this run down, you'll have a good overview of the way the law is shaped, and why.
It's also an important text as Lord Denning is one of the most influential judges that have ever worked. He has been dedicated to making the law accessible to everyone, not just those who work in the court system. As such, this is quite an accessible read and you'll get a lot out of it.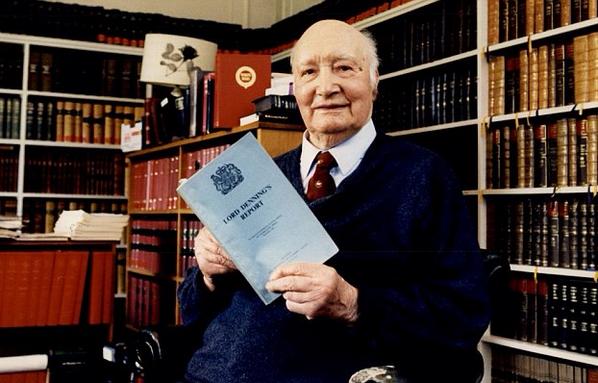 Photo: Lord Denning
About Law by Tony Honore
This is probably the most basic introduction to the law that you can get. As such, it's a great text for those who want to get started with law and are at the beginning of their degrees. It can help a lot with the basics, such as the purpose of the law, and how it works. There's also a good rundown of the English legal system.
This is the book you should start with, as you'll get a very good rundown of the system and how it works. No matter where you want to work in the legal system, this will give you a head start.
Jeremy Hutchinson's Case Histories by Thomas Grant
This book covers the most influential cases that criminal barrister Jeremy Hutchinson has been involved in. He has worked with some of the most notorious people in court and has been involved in cases from drug smuggling to the 'Profumo affair'.
It's a fascinating read, and you'll see just how important his work was as a barrister. If you want a real feel for what works in court is like, you'll want to check this book out.
Winning Arguments by Jay Heinrichs
As a law student, you'll be learning all about advocacy, and ensuring that both sides in a court case get a fair hearing. That means you'll have to come up with arguments that appear to be true, even if they aren't. By doing this, you'll be ensuring that everyone gets heard.
"This book is a good read for any law student", says law writer Adam King at Essay Writing Service, "You'll learn about how to structure your ideas when advocating for a client, and the best techniques to use." It's also quite light-hearted, so it's a lighter read when you're bogged down in textbooks.
Bleak House by Charles Dickens
Fiction is just as useful to you as non-fiction texts, and you'll want to make time to read this classic. Considered one of Dickens' best works, Bleak House follows a court case that is concerning several wills, and how it affects the people around them.
It's a book you'll want to read as it is based on the way legal cases were presented at the time, and so gives you a lot of history surrounding it. As a law student, having that background does help a lot.
To Kill A Mockingbird by Harper Lee
Here's another fictional classic that you'll want to read, as it covers the ideas of justice and equality. Set in 1930's America, the novel follows young girl Scout and her father Atticus Finch, a lawyer that's been asked to represent a man who has been shunned and considered by guilty by everyone else due to his race.
While it's a fictional tale, it does show you just how important justice is, and how equality should enter into your decisions when you're working with others. It's a good reminder of why you're studying law.
Letters To A Law Student by Nicholas McBride
In this book, author McBride writes 'letters' to a fictional law student, talking to them about what it's like to study in this area and offering his advice. If you're studying law in any capacity, you're going to find this book very useful.
In it, there's advice on how to study, as well as more specific things like how to take notes on a case. You'll get a basic rundown of the legal system too, so you'll want to make sure you have this book on your bookcase. It's something you'll refer to a lot, as you'll want to hear that advice from someone who's been through the same experiences as you.
Law School Confidential by Robert H. Miller
This is another book that focuses on the law school experience, giving you advice on how to get ahead as a student. It starts out talking to those thinking about applying to law school and then ends addressing those about to take the bar exam.
It covers almost every experience you'll have as a law student, and so you'll be coming back to it time and time again. You'll certainly find it to be a good companion text for you.
These are just some of the best books that law students will want to check out. Reading around your subject is so important, so make sure that you take the time to read these books. You'll learn a lot and having that background knowledge will make you even better at your eventual job.
We hope you enjoyed the advice for law students in Canada. Reach out to us if you have other articles you want us to write.
Authors of this article:
Madeline Miller is a law writer.
Emily Harrinson is one of the most influential editors at an admission essay writing service company in London. She has been working in this company since 2006, providing the best UK essay writing service. Her hobby is reading books. But besides that, Emily is fond of sports and music. She is a very positive person.